Prestige Home in Costa Rica

3 bedroom 4 bath home
plus separate guest house and office
plus separate gardener's and maid's house
on 1.94 landscaped acres.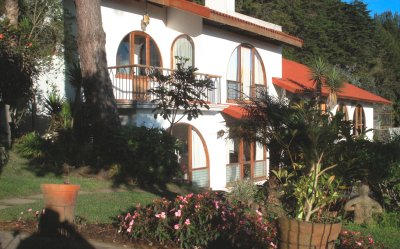 Have the best of all worlds.
A contemporary world class home in a tropical paradise. The house sets on the lush upper hills surrounding San José, in Aserrí, well known for its beautiful climate and quite country setting. All of this is within 15 minutes of the capital. Maricio Silver is the architect of this one-of-a-kind house, which features all rare hardwood in the ceiling and beams, and imported ceramic floors. The view is one of the best in all of Costa Rica.

Priced at only $695,000



The house is designed with comfortable living in mind. The living room, kitchen, dining area, master bedroom, and guest bedroom have floor to ceiling windows facing the central valley and Irazu mountain.


There is a separate smaller bedroom on one side, with a full bath. Also, there is a separate laundry room with washer and dryer.

The master bedroom has a walk-in closet, as well as a full bath with tub and bidet. There are two balconies off the master bedroom.
The living room has a full fireplace, as does the lounge TV room.
All rooms have great city and mountain views.

There are 3 separate hot water heaters.

There is a large outdoor BBQ area, and a Jacuzzi, as well as 3 patio areas.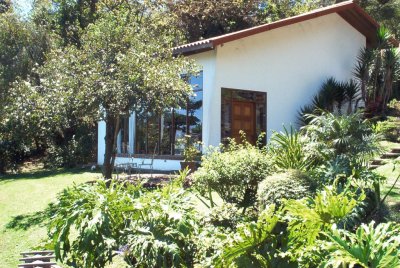 The guest house is completely self-contained. It has its own full bath, as well as a built in kitchen area with a gas stove. The loft has a built in closet.

The main area has a Ping-Pong table, built in closet with storage, separate hot water tank, and all tile floor. The floor to ceiling windows have a magnificent view, and the whole building is very light and airy.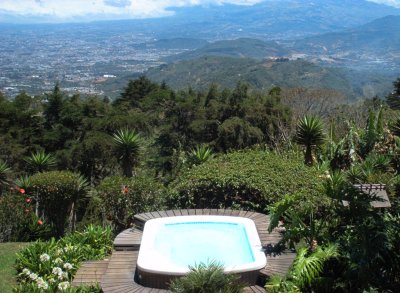 Everything is landscaped, with flowers and fruit trees. There are oranges, macadamia, bananas, and lemons. Next to the Jacuzzi there is a Japanese garden with a fish pond and waterfall.

Many of the neighbors have horses, and all of the nearby houses are of similar quality and size. The entrance is a cement road with gravel and flowers, so that it looks like a country lane. The first entrance gate has lights, and the second gate has lights and an electric remote opener.





THE CONSTRUCTION


The house construction is of steel and concrete. There is extra reinforcing in all of the walls and floors - very solid. The contractor for the house (being from the USA), was very adamant about the construction meeting all earthquake safety requirements.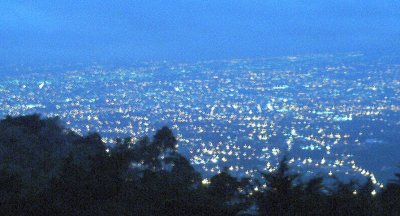 There is a gorgeous retaining wall behind the house with a hand-built rock wall that borders the upper and lower levels of the driveway. The floors are finished in imported ceramic tile.

All windows and doors are solid rare hardwood. All sink, shower and tub fixtures are American made.

There is a full wireless alarm system throughout the main house and the guest house, with door alarms and motion detectors, and well as light beams. All wiring is in piping within the walls, with full polarized outlets everywhere, with ground fault detectors. The Jacuzzi sits on a cement pad that is outside of the lounge TV room. It has an ozone protection and cleaning system.

There are 425 square meters (4,575 square feet) of construction, located on 7,841.13 square meters (84,401 square feet, or almost 2 acres) of land. The gardener's house has 70 square meters (753 square feet) of construction.


THE AREA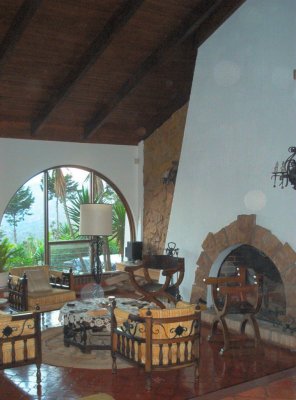 The area is known for its fine climate, and quiet country setting. The setting of the house is so that every room has a spectacular view.

The Capital of San José is a 15 minute drive. The International Airport is only a 40 min. drive, and the town of Aserrí is about 5 minutes from the house.

There are over a dozen excellent restaurants in the Town of Aserrí, and it is well known as an excellent area to visit for its climate and views. There are grocery stores, hardware stores, garden nurseries, a gym, and three banks available in Aserrí.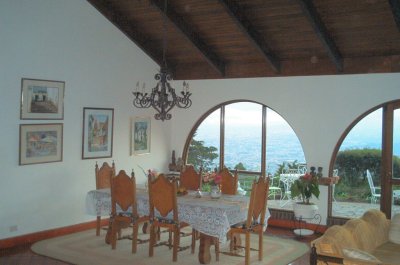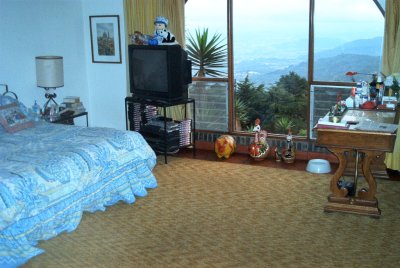 Less than one-half mile on the main road is one of the best restaurants in the Capital area, the Mirador Ram Luna. It has been serving wonderful meals for over 30 years in a very upscale country setting.

There are several National Parks nearby. Volcano Irazu and Volcano Barva are only about a two hour drive away. Also, Jacó beach is also about a two hour drive.
There are many more things to tempt you away from sitting on the patio and watching the lights come out over the city, but quite honestly, there isn't anything that is better.


Contact us at info@costaricamls.com