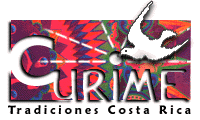 Thank you for your interest in our Costa Rican culture.
Curime is a group formed to promote the folklore of Costa Rica in the other countries of the world. For many years we have been participating in international festivals, to demonstrate the culture of Costa Rica and our Costa Rican traditions. Our artist are of the highest quality and have a lot of international experience.
We invite you to see our art and history by visiting our site.
We are very happy to have you visit with us.
Click the links at the top of the page to see more information.